It all started with our family restaurant
Over 100 years ago our Great Grandfather began distilling a traditional ouzo to accompany the chargrilled seafood being served at the family restaurant next door. His obsession for good food and even better aperitivo became embedded in our family culture. Today we are proud to be handcrafting our spirits, aperitivo and cocktails using the knowledge passed down through 4 generations of craft distillers. We have modernised a few of the recipes but the spirit of our Great Grandfather lives on in the attention we give to every bottle and our passion for a better drinking experience.
Our family gatherings feature tables full of meze, sharing plates and aperitivo enjoyed with a healthy dose of chaos
Who we are
Young bloods in the house
Three Foxes is the birth right of two mates - Sarkis, an engineer and fourth generation distiller who likes getting behind the decks whenever he can, and Alec, a Melbourne creative with a serious passion for the 80s.
After years of soaking up the knowledge and experience within our family business, we started dreaming up our next moves. Expanding our distillery offering from a traditional ouzo and vodka to include a line of aperitivo and bottled cocktails for the modern palette has been a total passion project. We are proud to be carrying on with the traditions laid out by our Great Grandfather and excited to raise the bar of drinking culture in Australia.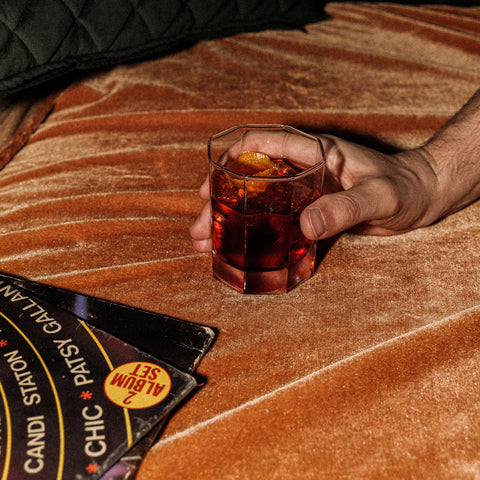 A place of our own
Our expansion called for some new digs! The Three Foxes distillery in Heidelberg is a place for all the things we love, from our shag carpet and classic world cup memorabilia, to the glassware from our grandmother's kitchen. There's always a killer tune playing over the sound system and laughs being shared in the bottling room.
Oh yeah, and a giant disco ball spins over the distillery floor, making the custom built pot still shine like the queen she is.
We're for conscious drinking
ALL NATURALE
Natural sweeteners, preservative free and not a chemical in sight. Our drinks taste better because they are.
LEGIT FLAVOUR
We only use ingredients we actually want to drink, like locally farmed fruits and top quality botanicals.
CRAFTED BY HAND
You'll find experienced hands not assembly lines preparing the fruit, distilling our spirits and caping every bottle.
Our spirits and aperitivo are best shared at a table stacked with food and surrounded by friends