Perfect for events, gifts or favours
YOU SEND THE ARTWORK. WE DO THE REST.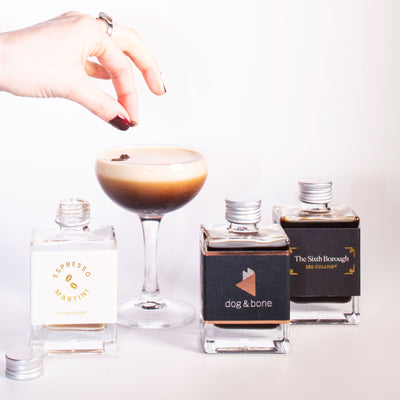 AS LOW AS $9 PER BOTTLE
No minimum orders. Order 48 or more to unlock the special price of $9 per bottle. Get in touch for a quote if you'd like Gift Boxes or need to send them to multiple locations. Free shipping for orders over $90.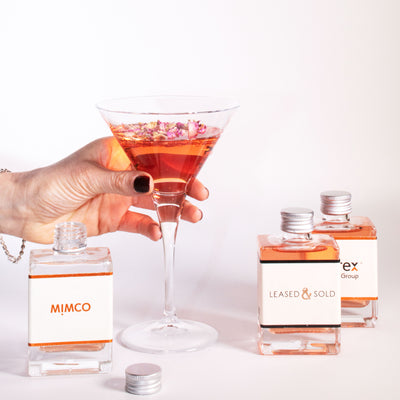 10 DAY EXPRESS TURNAROUND
Digital Print orders can be ready for shipping or pickup from as early as 10 days from proof approval. Get in touch on 1300 872 306 for a turnaround estimate if you have an urgent requirement.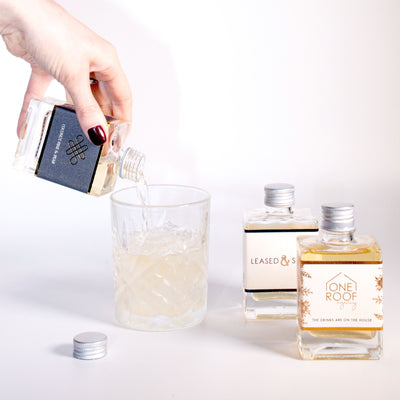 SIMPLE 3 STEP ORDERING
#1 Select your cocktails, #2 Choose the label type and upload your logo/artwork. #3 Choose extras and Checkout. Our designer will send a proof within 48 hrs for approval before we start printing. Alternatively you can order by email on orders@threefoxes.com.au.
From Farms Not Factories
Each bottled cocktail is made only with the actual fruits and botanicals instead of mixing other brands spirits and liqueurs. This is a little different to traditional cocktails but we like it this way to ensure there are no additives, no alcohol burn, no preservatives, no nasties, just an all natural drinking experience.
Branded tote bags were so 2015
Our custom bottled cocktails help your business or event stand out. Each individual cocktail is handcrafted using our premium spirits infused with real fruit and organic botanicals. Finished off with a custom label designed to reflect your brand and you've got something of exceptional quality and personality.
"Nothing short of exceptional"
The legends at Three Foxes Distillery are nothing short of exceptional. I have used them for a branded cocktail to gift to my clients. The design, printing quality and fast turnaround are absolutely incredible. I often get complements about these little bottles of goodness and love that they're fast to respond to questions, call if we need to chat about something and are always open to any changes I may need. I cannot recommend highly enough (oh, and the tipple's tasty too).
danielle
Previous
Next
FAQ
We want to work with you! If you can't find the answer below, please reach out to our customer service crew via hello@3foxes.com.au
How big are the cocktails?

Each Foxtail is a full, individual serve cocktail. They are either 110ml or 100ml.
How long will the cocktails last?

If left unopened, Foxtails will last indefinitely. This works well if you need to order in advance for an event or place a large order to use as gifts throughout the year.
How do you serve the cocktails?

Just chill and enjoy! Each Foxtail is a ready-to-drink individual cocktail which can be served as is (maybe add a straw) or poured into a glass after chilling for 15 minutes in the freezer. No ice. No shakers. No fuss.
Can I create my own cocktail?

Maybe! We are a small-batch producer so it might be possible but give us a call before making too many plans.
Can you design the label for me?

Short answer is "it depends". We make small adjustments to artwork in-house to ensure your label looks perfect but we can sometimes help with design a custom label too.
Can I speak with your printers directly?

To keep this simple for everyone, we'll make sure you have the necessary printing specifications and can answer most questions about the printing process ourselves. Anything we aren't sure of, we'll find out and come back to you. 
How does the custom label process work?

A custom label has a unique process. After talking through the project over the phone we will give you a quote and help you through the design process as required. Our job is to make this easy for you.
Will I get a printing proof?

Yes. We know there can be many pairs of eyeballs that need to look at and approve these projects so we provide a printing proof for each order. You will need to approve this before we proceed with printing labels.
When do I need to order them by?

The order fulfilment for customised labels is about 4 weeks however we have a delivery guarantee policy which means if anything were to happen in transit we replace the Foxtails free of charge. All we ask is that you order as soon as possible to give us enough time to rectify in the event anything were to happen. To date this has only been used once in the last 3 years but we like to make our customers aware of it.
When will I receive my order?

We ship orders as soon as they are ready, which is generally 4 weeks after you have placed the order.
Is there a minimum order?

There are no minimum orders however, bulk discounts on orders over 18 and over 48 bottles do apply.
Do you offer discounts for large orders?

Absolutely! We offer a bulk order discount that gets added automatically to your cart for your convenience. Our bulk order range is for orders over 48 up to 350 bottles, after this we manually quote based on your exact order.